Visual Marketing | Promotional Products and Apparel
Visual Marketing is a full service, Promotional Products Company in Austin, Texas, committed to providing excellent customer service at the local and national levels. We strive every day to ensure that our customers receive the absolute best products for their investment in a prompt and timely manner. We thrive on meeting every deadline and want our customers to know that they can count on us every time, as our number one priority is customer satisfaction. We guarantee 100% customer satisfaction, 100% of the time! Our marketing consultants are professional branding experts full of exciting and innovative ideas to help your business outshine the competition.
Visual Marketing understands that customers need a solutions provider, not just another representative to process their business transaction. Our branding experts are not only here to assist you with developing your marketing program, but to work closely with our suppliers all over the nation to welcome your experience with us as the beginning of a successful, long-term, marketing partnership.
Call and schedule an appointment with one of our dedicated branding experts today or if you know just what you are looking for place your order right now through our website. Our professional team members anxiously await the opportunity to assist you with creative ways to "Leave a Mark on Your Customer's Mind."
Our Corporate Apparel includes the newest and highest quality uniforms that your employees will actually want to wear. We have the fastest turn-around time in the industry.
Place Your Order Through Our Website and Receive:
• FREE SETUPS FOR ALL ORDERS OVER 500 PIECES
• FREE RUSH SERVICES AVAILABLE
Save
Featured Item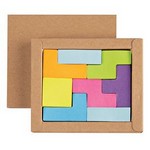 Jigsaw Sticky Flags
Add Fun To Your Desk Top! . Multi-Color Sticky Flags In Puzzle Shapes . Sticky Flags In 8 Shapes . 100 Flags Per Shape . Eco-Inspired Gift Box. 4 1/4" W x 3 3/4" H
$1.99 - $3.48